Bob Dylan Page & Links
You're listening to a Montage of Bob Dylan songs spanning over 40 years

Being noticed can be a burden. Jesus got himself crucified because he got himself noticed. So I disappear a lot.
Bob Dylan

Bob Dylan is one of the most influential figures of the latter half of the 20

th

century. The mark he has left on popular music and culture extends way beyond the folk music scene he helped define in the early 60's. Dylan touched others with his wit and talent while soaking up the various genres around him creating a symbiotic relationship that has helped to shape modern music right up through current times.

Bob Dylan had already been the golden boy of the Greenwich Village folk music scene in the early 60's, when in 1964 he met with the Beatles in NYC. Legend has it that at this meeting Dylan introduced the Fab Four to marijuana for the first time. Whatever really happened in that hotel room, the following year the Beatles began expanding their lyrical and musical horizons with the movie "Help" and albums "Rubber Soul" and "Revolver".

At the same time pop groups like the Byrds and Peter Paul and Mary were taking Dylan songs and rearranging them with a more electrical and fuller sound. This caused Dylan to begin experimenting with electric music himself and basically leaving the folk world behind as he took his new electric backup group "The Band" into a completely different direction. Although this shocked the Folk music purists who felt Dylan belonged to them exclusively, it also influenced many current and upcoming groups of the period, causing musical creativity to flourish.
Dylan on "60 Minutes" in 2004
Take care of all your memories. For you cannot relive them.
Bob Dylan

Try http://en.wikipedia.org/wiki/Bob_Dylan for a history of Bob Dylan.

Try www.BobDylan.com for everything Dylan

ExpectingRain.com is another good Dylan site.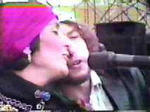 Blonde on Blonde, released May 1966, turned the pop music world on its head again and influenced almost everything after it. In July of 1966 much of the music world was watching and emulating Dylan, when a motorcycle accident kept him out of the public eye for almost a year. It was during this period that the "Psychedelic" movement, which had already started gathering steam, began expanding and culminating in the "Summer of Love" in 1967. As groups like The Doors, Pink Floyd, Jefferson Airplane, Cream, The Who, and of course the Beatles and Stones were expanding the sonic horizons even further, Bob Dylan switched gears again and released his stark and stripped down "John Wesley Harding" album. One song from that release, "All Along the Watchtower" would later help propel guitarist Jimi Hendrix to superstardom.

Always defying convention, always leading the way, and always an enigma. Bob Dylan is a true icon in the music world even today. With the start of his weekly radio program and the release of his new CD "Modern Times", it's obvious he still has much more planned for us. His total influence and talent will probably not be fully realized until after his passing. Let us hope that day is still very far off.

Bob Olson